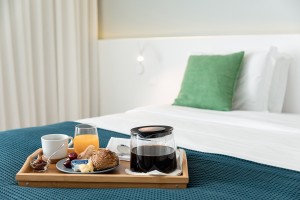 The Ilha Hostel & Suites elevates the hostel concept, establishing a new standard of spacious and welcoming accommodation, to make you feel at home, creating the perfect fusion of ecological philosophy, technology, design and comfort.
The Ilha Hostel has 10 rooms and is located in the heart of the historic center of Ponta Delgada, so that you can easily access the main attractions of the city. It stands out the main street of the traditional commerce, Rua Machado dos Santos, as well as the main church and the António Borges Botanical Garden to 900m.
The seven bedrooms and three dorms we have at your disposal embrace a contemporary decoration and offer amenities such as air conditioning, flat-screen TV, WIFI, acoustic soundproofing, enclosed storage, welcome drink and WC equipped with hair dryer, shampoo and shower gel.
All guests can enjoy a diversified breakfast with azorean flavors and aromas.